The Premier Travel trailers is a line of luxurious travel trailers manufactured by Keystone.
Keystone RV is a part of Thor Industries, which is probably the largest RV manufacturing company in the world. Keystone RV was founded in the mid-nineties in Indiana.
The company is best known for making RVs that are luxuries, durable, and full of the right amenities. In this post, we are going to reveal the best Keystone Premier travel trailer models and their specs.
By the end of the post, you should be able to find out which of the truck campers is best for you.
Luxury Keystone Premier Travel Trailers Floorplans
Keystone Premier 24RKPR With Opposing Slides
This is one of the most luxurious RV models currently on the market. It offers premium-level luxury camping. Several things stand out about it.
First, it has a massive queen bed. The bed provides residential-style comfort for quality sleep.
One each side of this bed is a wardrobe. This means you can travel with all the clothes and blankets you and your partner need even for a long camping trip.
Second, it has a big bathroom. The bathroom has two entry doors – one facing the bedroom and one facing the living area. It has a spacious radius shower, a toilet, and a sink.
Lastly, this Keystone RV's theater seating also stands out. The seats are very comfortable in the living area as well one of the best travel trailer models with opposing slides.
Like most big RVs, this one is also commonly sold as a base model but there are several packages that you can purchase to upgrade it and make it most comfortable.
They include a Thermal Package for making it more suitable for cold weather camping and an Exterior Camping Package for making it more suitable for a true outdoor camping experience.
Key specs for this product include:
Sleeping capacity: 4
Gross vehicle weight: 5,563 pounds
Slide outs: 2
Air conditioner: 1
Refrigerator: 1 (8 cubic feet)
Looking sleek, stunning and pretty luxurious, there is nothing quite like this luxury travel trailer on the market!
This Keystone trailer is an ultralight but big-size trailer that offers plenty of luxury and great features at a very competitive price.
As you would expect, this machine comes with a massive bed with a storage compartment on either side. You will find this bed comfortable enough for you and your partner. The bed is located in a bedroom. Just outside the bedroom is a feature-rich bathroom.
The bathroom has a toilet, a big shower, a sink, and some storage areas. It also has a roof vent, which is very important in a travel trailer. The rest of this trailer is a massive living area with theater seating, a dinette, and a big kitchen.
The kitchen is truly luxurious with its solid surface countertops, a big island, a range hood, a big sink, and multiple residential-style storage areas.
Exterior features of this product include two propane tanks, entry steps, power tongue jacks, pass-thru storage, and a heated underbelly.
Key specs for this product include:
Sleeping capacity: 4
Gross vehicle weight: 6871 pounds
Slide outs: 2
Air conditioner: 1
Refrigerator: 1 (8 cubic feet).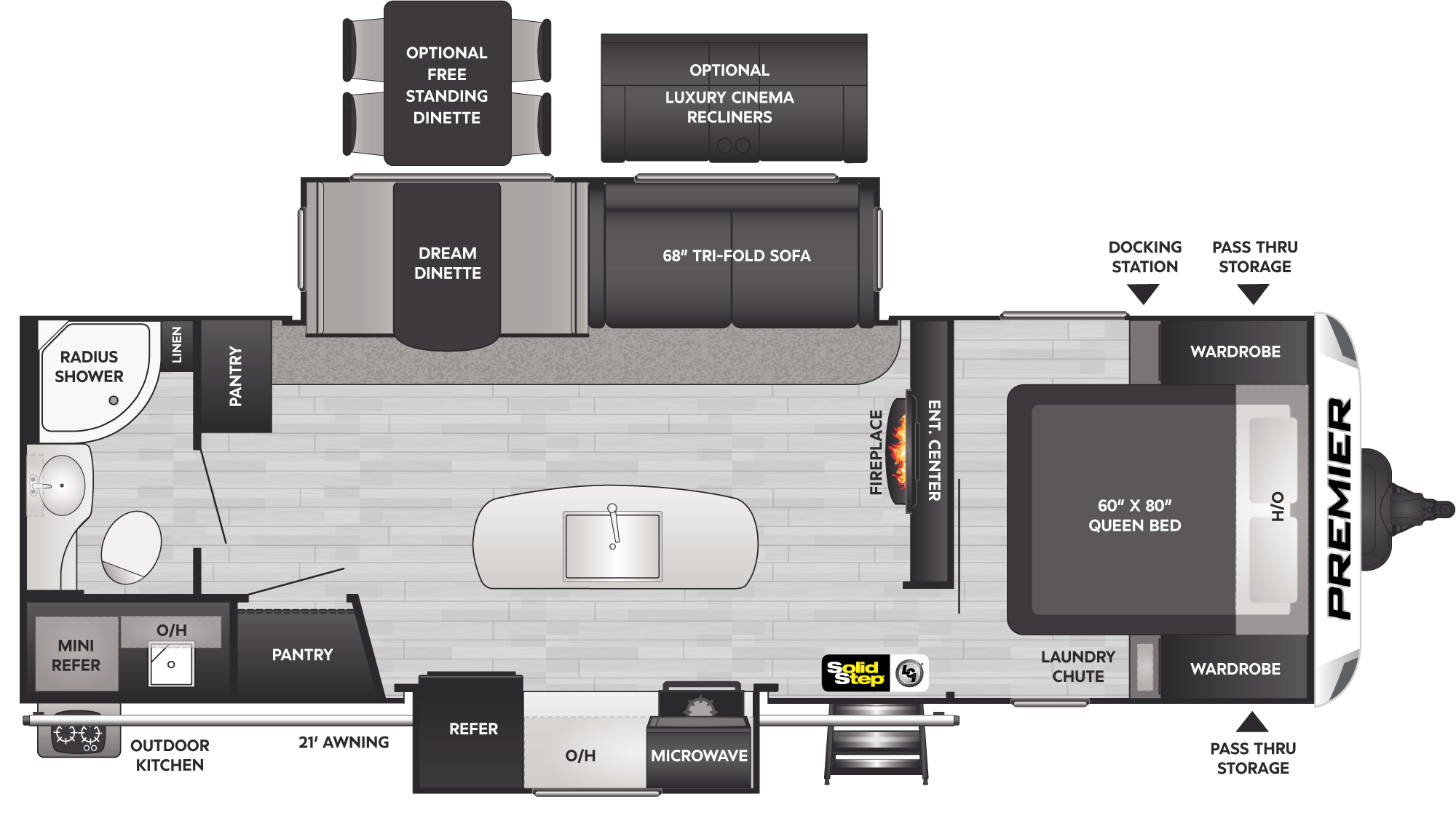 Looking for a luxury RV with an interior and exterior kitchen? Look no more! This Keystone Premier 26RBPR is exactly what you are looking for.
It comes with an interior kitchen with beautiful kitchen island and an outside kitchen for BBQs and quick outdoor meals.
The indoor kitchen has a kitchen island with a sink, overhead cabinets, a microwave, a burner range, and a refrigerator. The outdoor kitchen has a grill, a sink, and storage compartments.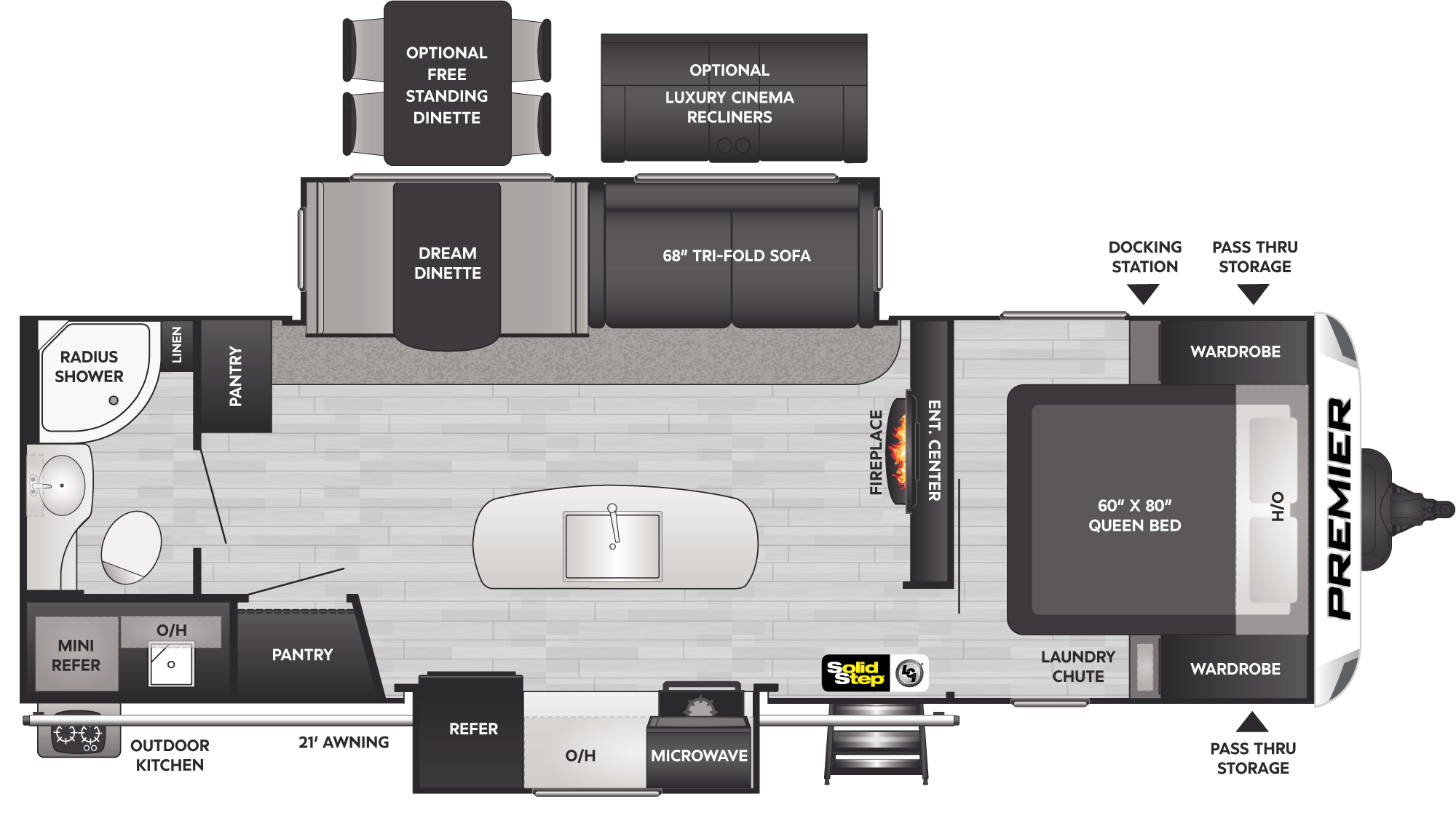 One of the things that stand out the most about this vehicle is its theater seating. The seating has space for two plus two cup holders. It is right next to a massive TV, an entertainment system, and a furnace.
It is nice for lounging or relaxing with your significant other in the evening or just before you go to bed.
The bed in this Keystone trailer is an island queen bed. It will provide you with the kind of comfort you can expect from a three-star or four-star resort. This machine also comes with power vents, a roof access ladder, and toilet facilities.
Key specs for this product include:
Sleeping capacity: 6
Gross vehicle weight: 6121 pounds
Slide outs: 2
Air conditioner: 1
Refrigerator: 1 (8 cubic feet).
Everybody prefers a lightweight travel trailer.
However, most of the lightweight travel trailers available on the market are not very feature-rich. Nevertheless, some are feature-rich and this is one of them.
It is one of the most luxurious and feature-rich campers available on the market. The features include a massive 60 by 80 queen-size bed that is perfect for two people or one is you are traveling alone.
There are several other sleeping areas in this RV include a sofa with Hide-A-Bed. In total, up to six adults can sleep in this RV.
Internal features include USB and electrical outlets, a 2-door refrigerator, booth dinette drawers, kitchen outlets a TV that has Bluetooth connected stereo, a fully furnished interior, a smoke detector, quality bathroom facilities, a powerful AC, and so on.
External features include a walkable roof that allows you to get a higher and wider view of the surrounding beauty, a heated underbelly to keep you warm, a large pass-thru storage to carry all the supplies you need, and stabilizer jack to keep the vehicle steady.
Key specs for this product include:
Sleeping capacity: 6
Gross vehicle weight: 6220 pounds
Slide outs: 1
Air conditioner: 1
Refrigerator: 1 (8 cubic feet).
This is an impressive luxury RV with a front bedroom featuring a queen bed that is spacious enough for you to walk around.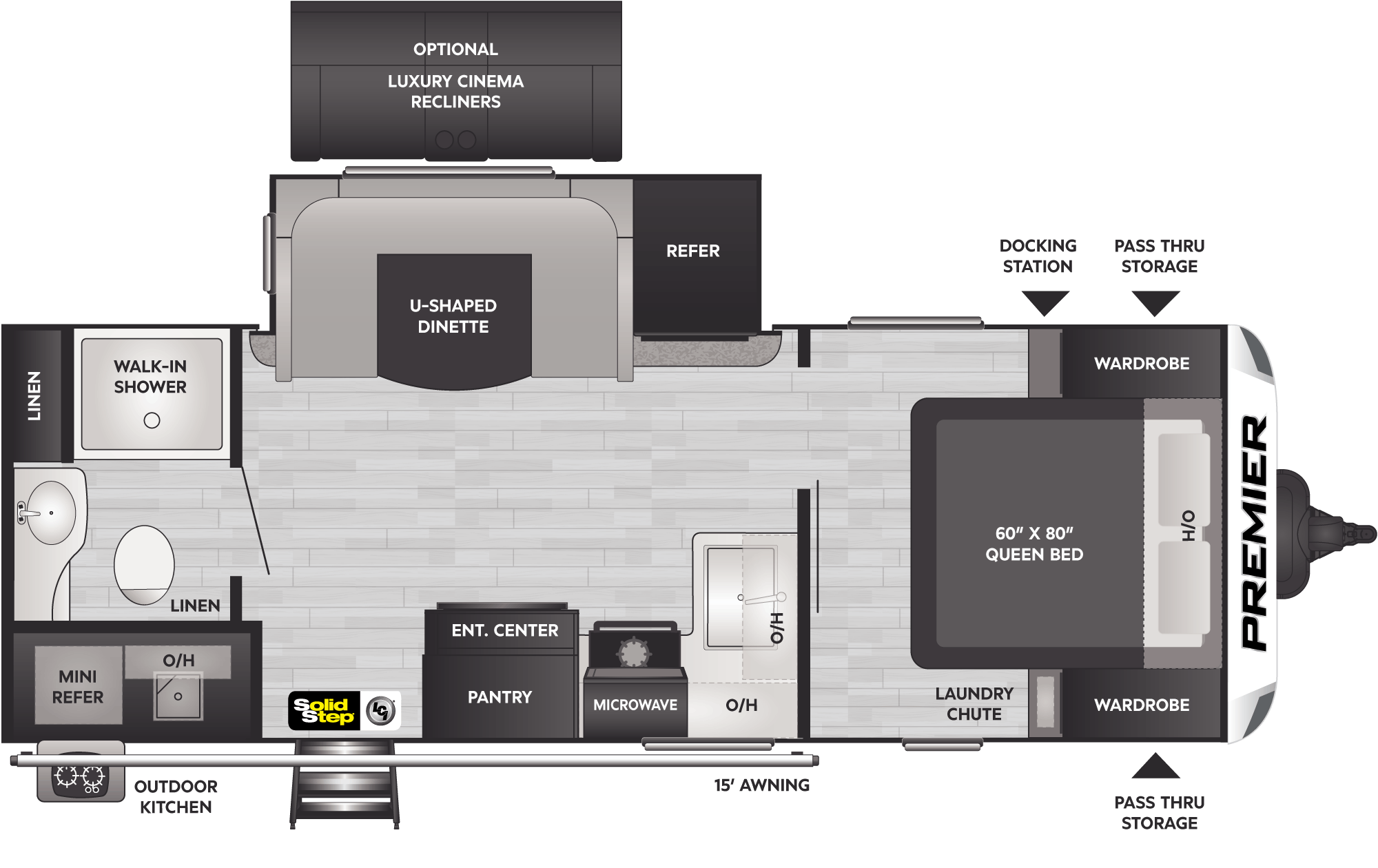 Its key features include a rear bathroom that has everything you would expect from a bathroom in a four-star hotel, a big dinette in a spacious slide-out, and a mid-kitchen.
Like most Keystone Premier campers, this one too can be purchased with several packages including an interior camping package and an exterior camping package.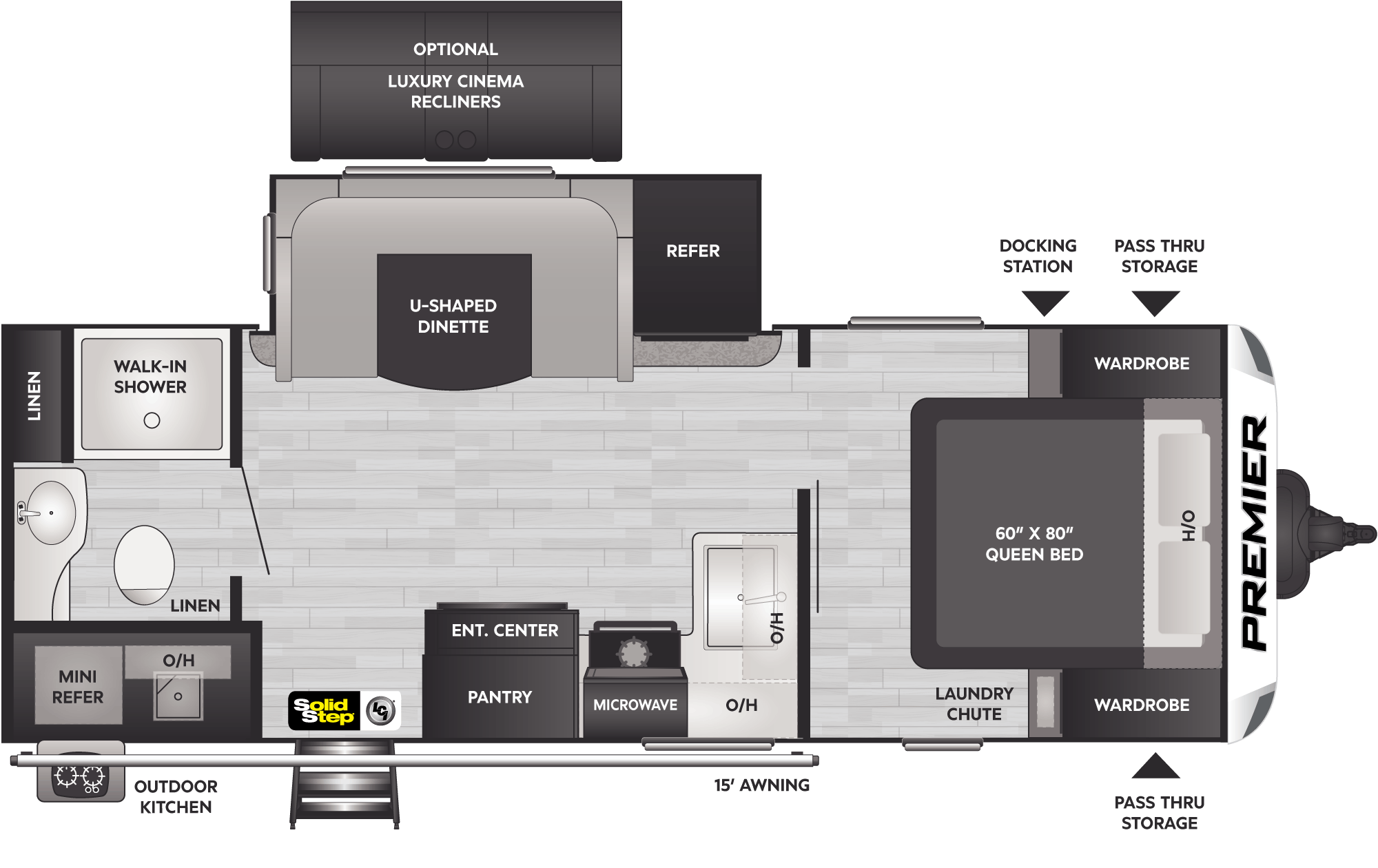 Interior features in this camper include a big LED TV, a deep stainless steel sink, a stereo that is compatible with USB, aux, and iPhone, and a powerful air conditioner.
Other notable interior features include a 3-burner range and a big 2 door fridge. Important exterior features include an outside shower, an electric awning, stabilizer jacks, and outside speakers.
Key specs for this product include:
Sleeping capacity: 6
Gross vehicle weight: 7000 pounds
Slide outs: 1
Air conditioner: 1
Refrigerator: 1
Keystone Premier Travel RV Floor Plans for Sale
A new Keystone Premier is a luxurious and lightweight RV and it will set you back about $30,000 depending on the design and add-ons.
A used one will cost much less. You can probably get a very decent Keystone Premier for about $15,000. However, if you want great quality, you should be prepared to pay more.
FAQ about Premier Campers!
Do any of Premier models come with opposing slides features?
Yes, the Keystone Premier 24 RKPR has three slides in the rear of the trailer.
At a more conservative length of twenty-nine feet and six inches, the opposing slides in the living area give room for a sixty-eight-inch tri-fold sofa or optional theater seats.
There is also an entertainment center adjacent to the free-standing dinette and a coat closet.
Can a family of 3 use Keystone Premier 19FBPR floorplan?
Absolutely! This is because this RV has a floorplan that includes four sleeping spaces. What this means is that this model can sleep not three but four people.
So if you have a family of three, everybody will have their own sleeping space at night. In terms of living area, a family of three will never feel overcrowded in this camper.
What is outstanding in 24RKPR floor plan interior?
The 24RKPR floor plan is a special camper with a stylish interior and exterior. The things that stand out the most about this camper include its powerful 15,000 BTU air conditioner, its theater seating, its beautiful interior décor, its big queen bed, and its bumper-mount grill.
Some of the outstanding features in the 24RKPR floor plan interior are:
Bumper-Mount Grill
Sonoma Interior Decor
Flagstone Interior Decor
Theater Seating
Air Conditioner (15,000 BTU)
How much does a Premier Ultra Lite weigh?
The Keystone Premier Luxury RV Models are a luxurious group of lightweight trailers, and they come in different models with their weights ranging from 4,400 to 7,500 lbs.
| | |
| --- | --- |
| Model | Weight |
| Keystone Premier 24RKPR | 5,563 pounds |
| Keystone Premier 30RIPR | 6871 pounds |
| Keystone Premier 26RBPR | 6121 pounds |
| Keystone Premier 29RKPR | 6220 pounds |
| Keystone Premier 23RBPR | 7000 pounds |
How much does it cost to buy 2014 keystone Premier?
The keystone premier RVs are luxurious and lightweight, and therefore they are a bit expensive.
The new models start at about $30,000, but if you are on a tight budget, you can opt for a decently used one, which usually goes for a lot less at $15,000.
Model
Average Cost
2018 Keystone Premier 24RKPR
$29,950
2021 Keystone bullet Premier 30RIPR
$52,500
2021 Keystone Rv Premier 26RBPR
$33800
2018 Keystone Rv Premier Ultra Lite 26RBPR
$29995
2019 Keystone Travel Trailer RV

BULLET PREMIER 29RKPR

$34,995
New 2021 Keystone Rv Travel Trailer RV

Bullet Premier 29RKPR

$52,999
Used 2021 Keystone Travel Trailer RV PREMIER 30RIPR
$48,500
Which brand compare with keystone premier campers?
The Keystone premier has made a name for itself as a luxurious and reliable travel trailer.
Nevertheless, if you are looking at getting other travel trailer brands, the ones that compare include Airstream, Grand Design RV, and Lance travel trailers.
2017 Premier 24rkpr Vs 2019 models
The 2017 premier 24rkpr and 2019 models have the same exterior, with the 2019 model being slightly larger and heavier.
However, the structure warranties of the 2017 and 2019 models are 12 months and 36 months, respectively. Also, the 2017 premier 24rkpr has a total black water tank capacity of 60 gal/L as opposed to 30 gal/L for the 2019 model.